ELIGIBLE for skillsfuture – Thai Language Course
Use your SkillsFuture credits and save some of those course fees and impress your friends with a response that goes beyond Sawadee Krup.
Our online Thai course is held with Zoom in the comforts of your own home.
Course Title Thai Language (Synchronous e-learning)
Course Fees S$500
TGS Ref No TGS-2021008706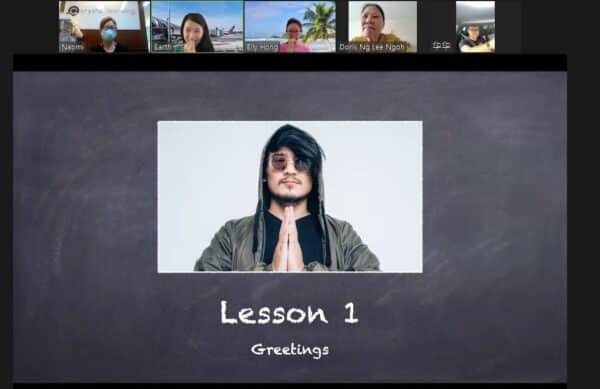 Small group (8 pax) live zoom class
Watch recording after every lessons for practice and revision
Move easily from work mode to class mode with the click of a button
Learn Thai online with us?
Send us a message in WhatsApp or sign up for a free trial class. We'll help you join the next class and claim SkillsFuture credit, if applicable
Learn Thai in a small group class
The borders are open! Equip yourself with basic conversational Thai skills that will help you win the hearts of Thai retailers, travel beyond Bangkok confidently, and build beautiful friendships with Thais along the way.
Attend our Skillsfuture credits eligible Thai language courses and learn them faster in a small group class.
Why learn Thai online in a small group?
You get more interaction opportunities
Go to class at a click of a button 👆
Receive recording for after class revisions.
Message us in WhatsApp and we'll help you get started.
Good structured lesson plan
Brian's a great teacher, he listens to our questions and accurately clarifies them. He is very familiar with the material and explains concepts very clearly. His enthusiasm also never fails to brighten up the lessons we attend!
I totally enjoyed my 10weeks lessons with Brian and the other 2 classmates! Brian is very funny and he is very clear when he explained different contents/context/statements. I will join Beginner 2 with Brian (hopefully schedules allow) and continue with him since I am already familiar with his classes. Thanks Brian!
The online lessons is very convenient and accessible. John Park is an excellent teacher and he makes sure the students grasp each concept.
I would like to recommend this course, because I truly love to study and spend time improving English with different cultures and learning about useful things of daily life! It has been amazing and Karl is a motivating tutor!
Teacher John Park is very patient with us. He never give up in making us understand as for a beginner like me, I needed more time to digest information. He would go out of his way to teach us what we need to understand. We really enjoyed his lessons and looking forward to his classes always.
Frequently asked questions
Is learning Thai online really better than in-person?
We have been running online Thai classes for about 3 years. Although, there are some students who still prefer to learn in-person, the majority of our students embrace the new norm and have benefitted from the experience.
What topics are covered in the Thai Language class?
What is your Thai language online class schedule?
We keep it hidden because it is really quite confusing but if you really want to see it. You may click here to find it.
Otherwise, just ask us on WhatsApp and we will respond asap.
I learned Thai before how do I find out my level?
Please answer the following questions.
How many hours have you learned Thai before? 
Do you know the Thai alphabet?
Tell us on WhatsApp and we will respond asap.
How do I sign up and use my SkillsFuture credits?
Sign up for a course with us first and then we will send you an invoice and claim instructions to your email.
You may click here to sign up.
Or ask us on WhatsApp and we will respond asap.
How long is your Thai class?
We run our Thai classes 1.5 hours a week for 10 weeks and that is 1 term. It takes 2 terms to complete our Beginner level.
Ready to learn Thai online with us?